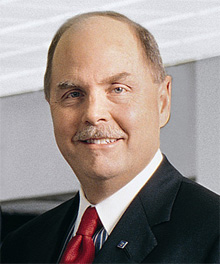 Who is Fritz Henderson?
It's been a week now since the Obama was dropped on Rick Wagoner. Since then, Frederick "Fritz" Henderson was named CEO of General Motors. What do we know about this guy?
According to Wikipedi
a (which is never wrong), Fritz is 50 years old and has been with GM since 1984. He's been all over the world heading this and that for the General, from Brazil, to Singapore to Switzerland. He has a BS in Management from University of Michigan and a Harvard MBA.
Here's a picture of Fritz by himself, and one with his whole family.